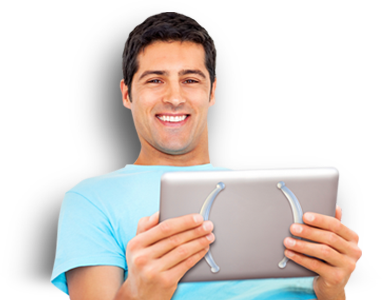 Anti Slip Grips
Joslin Anti Slip Grips for Mobile Devices | Wings for iPad, Tablets, and Larger Devices
Overview
Application
Specifications
The CUSTOM WINGS were designed as a pair of tacky silicone grips that can be placed on a device to fit your hands perfectly. Primarily created with iPads and Tablets in mind, the WINGS are ergonomically shaped for a natural grip.
WINGS can be placed close to the edge of the device for small hands and further toward the center for larger hands (even two sets work – one for your kids, one for you). Choose where to place them. At work, at school or at home, get a really strong grip on the devices you use all day.
The grip will also slightly elevate your device above wet or sticky areas and keep it from slipping on most surfaces. One pair of WINGS will add 3/4 ounce to your device.
APPLICATION INSTRUCTIONS
Adhesive sticks to metal, plastic, coated leather and most hard surfaces. After removing the grip from its package and before peeling off the paper to expose the adhesive, lay the grip on the device to confirm exactly where it will be placed. Make sure the surface is clean and dry. THE ADHESIVE ATTACHES JUST ONE TIME, SO CHOOSE PLACEMENT CAREFULLY.
REMOVING PAPER COVER
For easiest removal, bend the grip inward until a gap is created between the adhesive and paper at the apex of the bend. Carefully peel off paper cover. Try not to touch the adhesive while applying the grip. Once placed, press hard on the grip for a few seconds to assure a firm seal and to eliminate air bubbles. (See photos to the left illustrating the paper removal).
REMOVAL
To remove the Joslin Anti Slip Grips™, peel the grip off of the device. If adhesive residue remains, use an adhesive removal solvent to clean the surface.
APPLICATION TRANSLATIONS
El adhesivo se une a metal, plástico, cuero revestido y la mayoría de superficies duras. La superficie debe estar limpia y libre de grasa y suciedad. Mida el lugar donde sus dedos sujetarán el dispositivo, aplique la cinta aisladora y presione fuerte para pegar el adhesivo.
L'adhésif colle aux métaux, plastiques, cuir traité et la plupart des surfaces solides. La surface doit être propre, sains graisses ni salissures. Mesures là ou vos doigts vont soutenir la pièce, prenez avec soin et pressez avec force pour que l'adhésif tienne.
Klebestift auf Metall, Kunststoff, beschichtetes Leder und die meisten harten Oberflächen. Die Oberfläche muss sauber und frei von Fett und Schmutz sein. Messen Sie, wo Ihre Finger das Gerät greifen wird, tragen Sie den Griff an und drücken Sie hart, um den Klebstoff festzusetzen.
L'adesivo si attacca a metallo, plastica, pelle ricoperta e alla maggior parte delle superfici rigide. La superficie deve essere pulita e libera da grasso e sporco. Misurate dove le dita afferreranno il dispositivo, applicate l'impugnatura e premete forte per far aderire l'adesivo.
接 着剤は、金属、プラスチック、コーティングされた革と大部分の固い表面に付いています。 表面はきれいでなければならなくて、油とほこりを含まなくなければなりません。 指が装置をつかむところを測って、グリップを適用して、接着剤をセットするために激しく押してください。
Ang pandikit ay dumidikit sa bakal, plastik, pininturahang balat at sa karamihan ng mga matigas na ibabaw. Malinis dapat ang ibabaw at walang grasa at dumi. Sukatin kung saan hahawakan ng iyong mga daliri ang kagamitan, hawakan nang mahigpit at idiin mabuti para idikit ang pandikit.
translation-text-new
يلتصق اللاصق بالمعادن والبلاستيك والجلود المغلفة ومعظم الأسطح الصلبة. يجب أن يكون السطح نظيفا وخاليا من الشحوم والأوساخ. و ينبغي قياس المكان حيث ستكون أصابعك عند امساك الاداة، أطبق قبضتك و اضغط بقوة لوضع لاصق.
粘合 能够粘在金属、塑料、 涂 的皮革和大部分硬 表面上。表面 干 ,无油 或灰 。 抓握 手指的位置,安放好把手,用力按 ,使其粘 牢固。
Brand Name: Joslin Anti Slip Grips™ – Wings
Model Number: 1545 J
Package Dimension: 7 inches (17.78) long, 5 inches (12.7cm) wide, 1/2 inches (12.7cm) deep
Package Weight: 1.5 ounces (42.5g)
Item Weight: 3/4 ounce (21.3)
Product Dimensions: 5 inches (12.7cm) long, 1/2 inch (0.635cm) wide
Possible uses: iPads, tablets, readers, PDA's, clip boards, notebooks, tools, sports equipment, laptops for gripping and elevated cooling.
---
More from this collection